Where we go from here )
Olga Georgieva
Soli Kiani
Felix Malnig
Fabian Erik Patzak
16.11. - 22.12.2023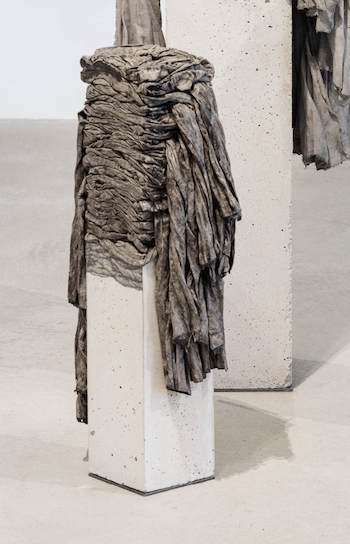 Soli Kiani, Blurred Line 4, 2022, concrete steel glue, acrylic-fabric and pencil, ca. 48 x 21 x 10 cm © Kunstdokumentation.com / Soli Kiani
Renate Bertlmann ) Belvedere 21
Fragile Obsessions
29. September 2023 - 3. March 2024
Exhibition view, Renate Bertlmann, Fragile Obsessions, Belvedere 21 © pocket exhibition
Renate Bertlmann is one of the main protagonists of the Austrian feminist avant-garde. In recent years she has gained international attention, especially through her solo presentation at the Austrian Pavilion at the 58th Venice Biennale 2019. On the occasion of her 80th birthday, the Belvedere honors her oeuvre with a first comprehensive retrospective.
Bertlmann's radical, ironically provocative works subvert social attributions and stereotypes of gender, femininity, and masculinity, thus addressing the female body as a battlefield as well as the ambivalences of pleasure and pain, desire and discipline, tenderness and vulnerability. The artist draws both from conceptual and pop-cultural aesthetics, appropriates pornography and kitsch from an altered perspective, and references literature, film, medicine, religion, and spirituality. Her work is characterized by her interest in experimenting with a wide range of media and materials, such as conceptual photographs, drawings, paintings, collages, sculptures made of latex and Plexiglas, performances, and large-scale installations.
The retrospective at Belvedere 21 includes some two hundred exhibits, ranging from the late 1960s to her recent artistic production, including iconic works from the 1970s, pivotal sculptures and installations, performative photographs, and drawings, as well as numerous works that will be on view for the first time. The exhibition is accompanied by an extensive publication.
Curated by Luisa Ziaja